When you first install PGP Desktop (Symantec Encryption Desktop), upon reboot, when you launch the Email client, two things can happen depending on the method being used as mentioned in the Introduction of this article.
If you are using Method 1, for POP/IMAP/SMTP, our Proxy service will automatically detect your email account. For this to work, SSL/TLS must be disabled in the Email Client. Before doing anything, confirm that without PGP Desktop installed, the Emails are sending just fine. Once this is done, then install PGP Desktop. Then disable SSL/TLS for the accounts in Outlook. PGP Desktop will actually "Proxy" TLS for the emails automatically.
Use the following steps to troubleshoot PGP Messaging:
Check the existing policies for conflicts. To back existing policies, take screen shots to restore the policies later.
Delete the existing policies.
Close Outlook.
Stop PGP services by right-clicking the PGP Tray icon in the Windows System Tray and then click Exit PGP Services.
Restart PGP Services by clicking Start > Programs > Startup > PGPtray.exe.
Restart Outlook.
Send a test email message to yourself.
The PGP Desktop Assistant should automatically detect the email account(s) in Outlook. Account settings will get configured automatically like the following message:



Select "Next" and follow the prompts.



The next screen will show you the PGP Keys associated to the email address. Click the key that matches and click Next.
On the last screen, choose Finish:



Important Tip: If you are prompted to allow PGP Desktop to protect the account, confirm this selection and then select the PGP key for the account. You may see this prompt numerous times depending on how many mail servers there are. Best practice is to allow each one to be proxies.


Verify the settings from Outlook in PGP Desktop > PGP Messaging.
Check for a verification email from PGP keyserver and click the link to verify the key and then download the verification key.
Try sending an email message according to the policy set.
If you are using Method 2, or MAPI, this means you are using Outlook with Microsoft Exchange. In this method, our DLL should automatically be invoked, so that when you send a new email, the driver should then automatically encrypt the message.
Troubleshooting
Troubleshooting Scenario 1: Proxy Services, or Encryption/Decryption does not appear to show up at all
If you have any security software that could block any of the above two DLLs for messaging, allow them so that our automatic email encryption and decryption can work properly.
For both of these files, add the following exclusions:
C:\Windows\System32\PGPlsp.dll
C:\Windows\System32\PGPmapih.dll
In addition to the above DLLs that are used specifically for messaging, see the following article for other exclusions you may need to add to ensure security software does not block the encryption services:
200696 - Symantec Encryption Services - Add Symantec Encryption programs to safe list or exclusions in security software
Troubleshooting Scenario 2: Messaging Service shows up over and over again
For this scenario, we typically recommend approving each pop-up and eventually these will stop. This pop-up happens for POP/IMAP configurations and will happen for each mailserver the PGP proxy service detects. For example, the mailserver FQDN may be "mail.example.com", but the DNS records may point to three different mailservers. You may get three different popups for this.
For Gmail, there are infinite mailservers, so you may just need to keep approving. Check the Additional Information section of this article for information on how to configure Gmail with PGP.
Troubleshooting Scenario 3: I Got a popup, but I didn't know what to do so I closed it, and now I don't see the popups and now email encryption is not working

For this scenario, quit the PGP services, and then delete the "PGPprefs.xml" and "PGPpolicy.xml" files in %appdata%\PGP Corporation\PGP
Relaunch the software and go through the setup again. For further assistance on this, contact Symantec Encryption Support.
Scenario 4: Message Appears: Unable to Secure Messages
A Pop Up appears stating the "Encryption Desktop is unable to secure your messages because PGP Services are not running.":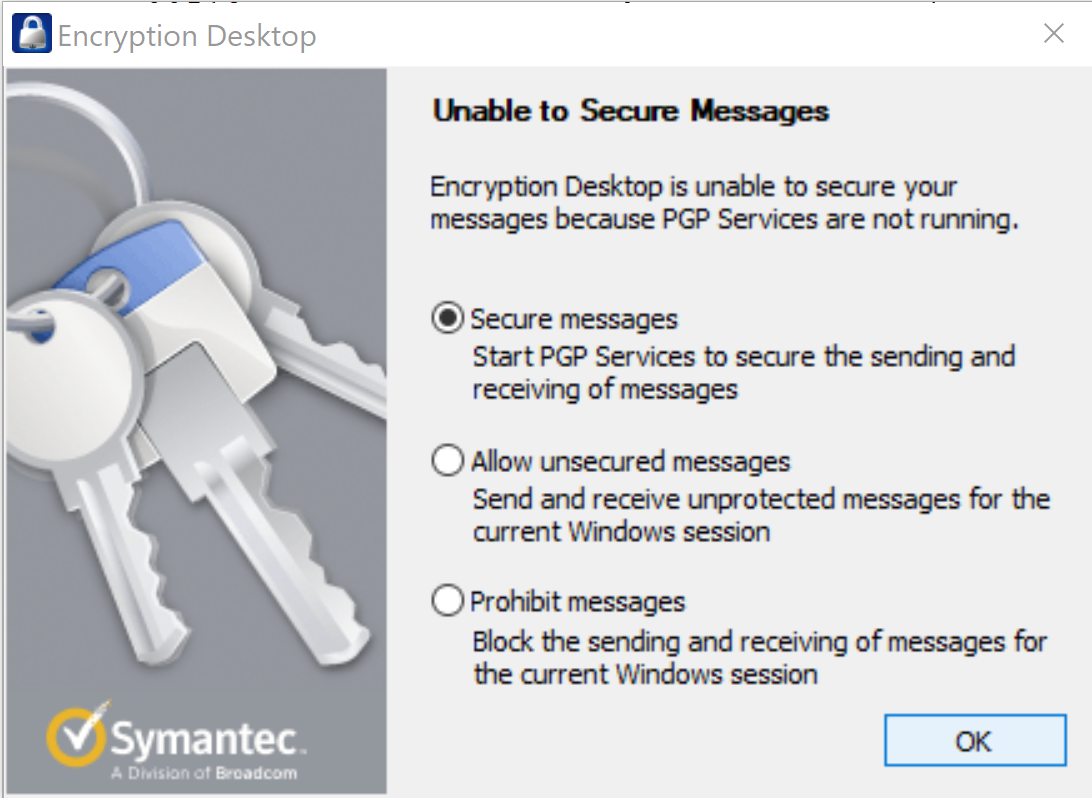 It is best to choose "Secure Messages" to be able to send encrypted email. Choose the Allow Unsecured messages if you don't want to encrypt any emails.
If you want to block emails, you can choose the "Prohibit" option.