NFA Anomaly Detector Traps in Spectrum
Article ID: 95723
Updated On:
Issue/Introduction
I am trying to send Anomaly Detector (AD) traps to Spectrum. AD is installed on NFA console box.

From the NFA console server I am receiving watchdog related alarms in Spectrum but not for AD.

Wireshark is displaying SS (MLS) is receiving SNMP traps from AD, but not sure why not in Spectrum.
Environment
Release: Spectrum: 10.2.x integrated with NFA: 9.3.3 and up
Component: SPCCSS
Resolution
If you have completed the Network Flow Analysis (NFA) integration with Spectrum and are not seeing the Anomaly Detector traps properly in OneClick, it is likely possible that new updated MIB for NFA must be imported into Spectrum
Attached to this article you will find the updated MIB
Take this MIB and import to Spectrum MIB Tools - NetQoS-AnomalyDetector-mib. Once imported, Compile and Add the MIB.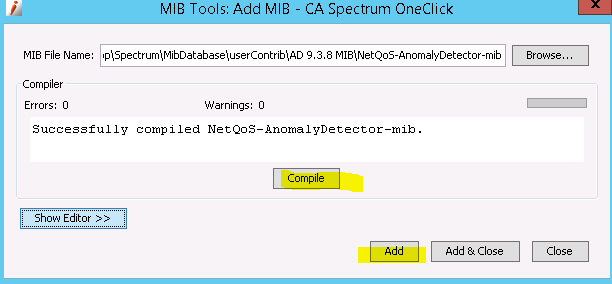 Then map the traps to Events. Go to the Map tab and down in the Trap area, select the trap OIDs and click "Map Trap"

Once the MIB is imported and the traps have been mapped to events, then Reload Events on EACH landscape to allow the new mapped events to process.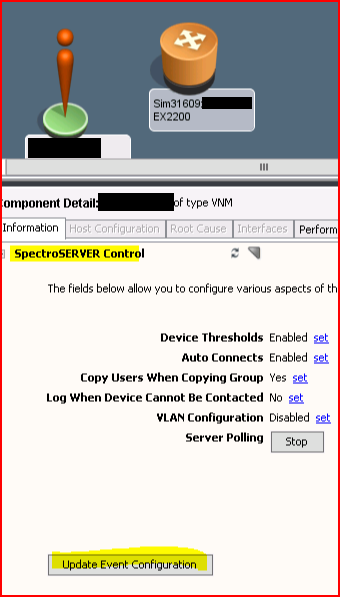 Additional Information
Please reference the "Managing MIBs and Traps With MIB Tools" section of the documentation for more information.