If you are seeing the symptoms noted in the introduction, or suspect that some of your user accounts may be orphaned you can recover them through Provisioning Manager.
In Provisioning Manager under the User's tab, search for the global user object named [default user].

Once here you can right click the default user and select list accounts, if there are many accounts defaulted you may have to choose the specific endpoint you want to see from the list accounts menu. For these instructions I will be recovering the OrphanedAccountsDemo account located on JenEndpointTest of the endpoint type JenEndpoint.

Right click on the orphaned account once it is listed, and select Remove Account from User. Do not delete the account because depending on your endpoint settings this may also delete the account from the endpoint itself.
At this stage you may also choose to select Copy Object(s) and instead of removing the account you can paste it into the Global User it belongs to.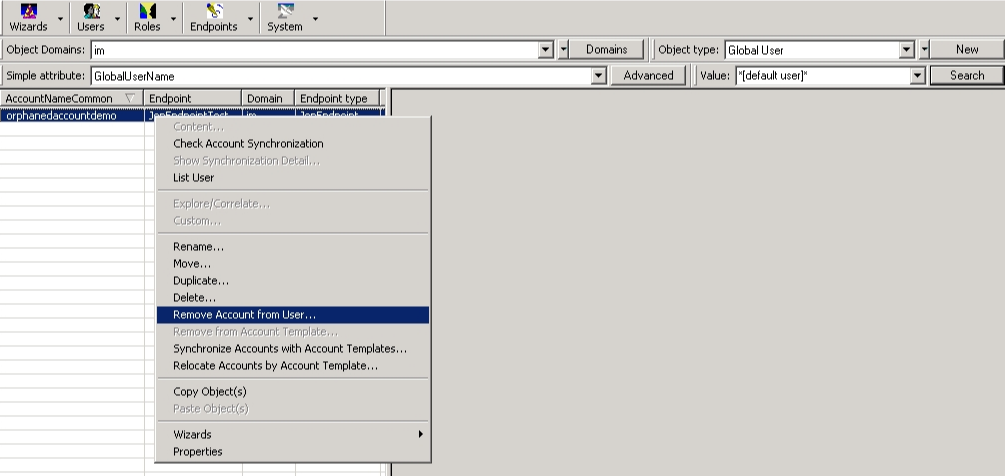 Once the account has been removed from the [default user] you can perform another Explore and Correlate or synchronize your global user with their roles. Unless there are other underlying issues this will associate the account with the correct global user.
If the endpoint account continues to default, there may be a problem with your correlation rules or the global user you would like to have associated with the endpoint account may not exist.
Additional Information:
When performing an Explore and Correlate, if the option to correlate using existing global users is selected then all user accounts will be defaulted if no appropriate global user exists to correlate to. If you would like your explore and correlate to create new global users for you, select create global users as needed instead.
Once an account has been associated with a global user - including [default user], they will never re-correlate unless the account is removed from the user as explained in the instructions above.