If either the previous Archive Manager shutdown was not successful or the Archive Manager database (DDMdb) was repaired, the next time the Archive Manager is started, it will validate the DDMdb database.
This validation operation will take time depending on the DDMdb database size.

Check the size of the $SPECROOT/mysql/data/ddmdb/event.MYD or event*.idb files.
Follow the steps below to query the MySQL server to list what threads are running:
1. Log into the system as the user that owns the Spectrum installation
2. If on Windows, start a bash shell by running "bash -login"
3. cd to the $SPECROOT/mysql/bin directory
4. Enter the following command to log into mysql:
./mysql --defaults-file=../my-spectrum.cnf -uroot -p<PASSWD> ddmdb

5. Run the following command at the mysql prompt:
show full processlist\G
In the example below the MySQL server is checking the event table: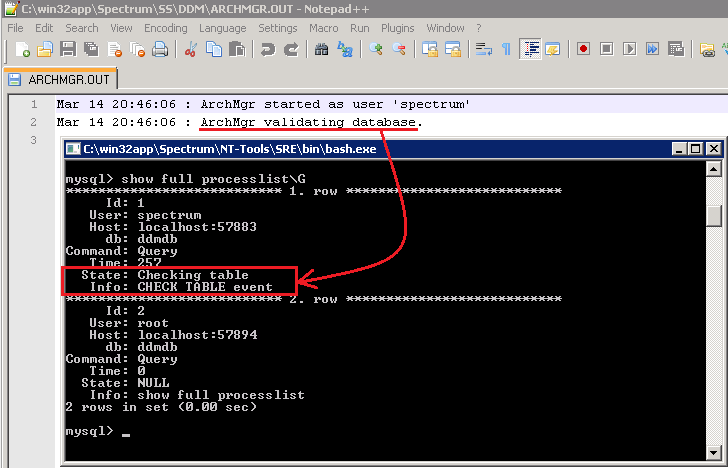 Once the validation is completed successfully, you will be able to access the Archive Manager database.