Instructions:
Administration Settings
1. Go to Administration -> Preferences -> Display Preferences -> Browse

2. Set Number of pages per request - Set number of pages to be displayed at one time.
3. Leave Maximum lines per page set as previously for instances where artificial page mode is not enabled.
4. Turn on Artificial Page Size Mode. Set to Yes to have reports that average more than 300 lines to be split into artificial pages and specify the line length for each artificial page. Note that a single record in CA View can equate to 0 – 3 lines of output in Web Viewer.
5. Click Update.
Artificial Page Mode Turns on automatically when you have a Large Single Page Report. Report Browsing in Artificial Page Mode appears similar to Standard Mode and an Information Icon (shown below)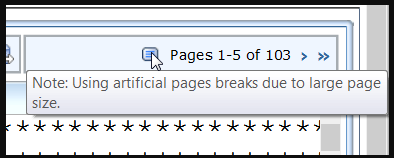 lets you know you are in Artificial Page Mode. Page Navigation uses Artificial Pages for both the Go To Dialog and the Page Navigation Bar. 'Find' can now access anywhere in the original report.
Using Artificial Page Support to Save, Print or Email
Save, Email, and Print work as before except they will not truncate report data. The entire report will be saved, emailed or printed, except if you specify Page
Selections these will be based on Artificial Pages.
Using Artificial Page Support to Export
Export works as before except export will not truncate report data.
Pages Selection will based off Physical Pages (Printer or SAR Pages)
For example:
If you export pages 1 – 2, Web Viewer will just export physical pages 1 – 2, even when in artificial page mode
The currently Selected Pages option is not available in artificial page mode
Both the Lines from the bottom of each page and Lines from the top of each page options are based on physical pages