AppNeta - How do I change the upgrade schedule for an NMP?
Article ID: 263976
Updated On:
Issue/Introduction
We are not able to see the upgrade type to Scheduled on the NMPs, we see the below error, can you please help understand why would this be? It says "Upgrade Settings could not be edited"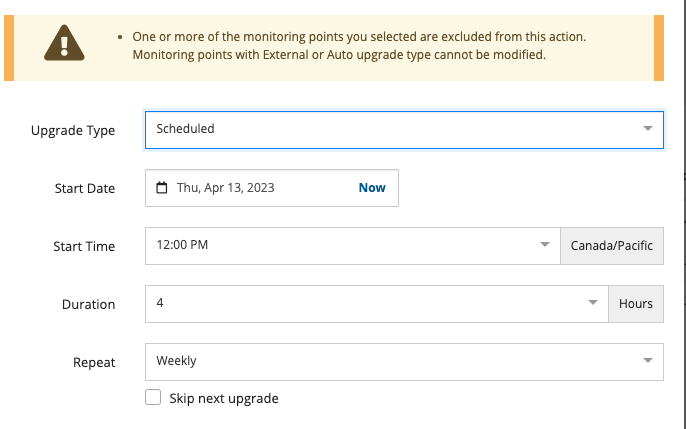 Resolution
Native Monitoring Points do not support scheduled upgrades, but instead are set to Auto - which will allow updates to be automatic, or, the can be set to External - which allows updates to be managed by an external system.
Please have a look at the Upgrade Software article:
https://techdocs.broadcom.com/us/en/ca-enterprise-software/it-operations-management/appneta/GA/appliance-overview/windows-mp-intro/windows-management/windows-mp-upgrade-software_0.html
In order to support the External upgrade type, please note that monitoring points should be deployed with /CheckForUpdatesPeriodDays=0 (within Manage Monitoring Points).