When exporting a client package you want to select an earlier build of the client package after a client patch update has updated the client build.
In order to select a previous build when exporting the client package use the drop down in the Export Package options
For example, instead of showing 3 versions like here: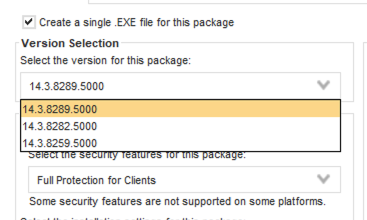 Make it so only the version you want installed will be displayed. In the default configuration when you export a package for an agent install, all available agent versions are selectable.
If you want to be able to control the agent version getting installed by the administrators, you can do this by creating a custom install package with only the specific agent version you want to install.
The only caveat to this is that you will need to delete the original Export package since it will not let you add it back if the original one is there. Therefore I would export all versions of the agents so you can get them back if needed.