Things to do first:
Exclude scanning NFS mounts

Add exclusions for known good applications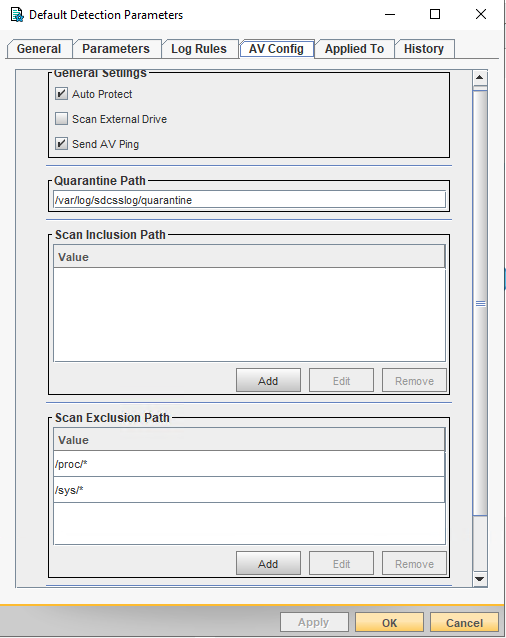 After mounts are excluded and known good exclusions are added, if you still see issues please try the following:
....
[Scanner]
#Maximum archive level.
#Max value INT64_MAX.
#Requires service restart to apply.
scanner.max.container.depth=0

3 Start the AMD service: ./etc/init.d/sisamdagent start
Increased onDemand threads in AntiMalware.ini (Note: this can increase performance but may also increase scan CPU)

1. Stop the AMD service: /etc/init.d/sisamdagent stop

2. Edit the configuration file: vim /opt/Symantec/sdcssagent/AMD/system/AntiMalware.ini (save the changes)
Find the thread you want to increase and change the value higher than 4 but not exceeding 16.
#Max number of Scan threads can be 16.
#Requires service restart to apply.
amdmanagement.ondemand.scan.threads=4
#Max number of AutoProtect Scan threads can be 16.
#Requires service restart to apply.
amdmanagement.ap.scan.threads=4
3. Start the AMD service: /etc/init.d/sisamdagent start
This would be the last option to try as this can impact scan performance: (This caps each cpu to 40% AMD, so if you have 4 cores, you could still see a maximum of 160% CPU being used)
For sisamddaemon to set 40% with the command below:
systemctl set-property --runtime sisamddaemon CPUQuota=40%
(Note: These settings will be lost on system reboot unless you create a cron job on startup)