Error trying create Salesforce endpoint: 'Account Deletable Flag' may not have multiple values
Article ID: 247860
Updated On:
Issue/Introduction
Trying to create a Salesforce EndPoint in Provisioning Manager:
Environment
Release : 14.4
Component :
Resolution
1. There is a tab General 1 with a attribute named as "Account Options on Delete" with value "Accounts will be deleted from the provisioning directory...."

2. That value need be emptied:



3. The above (before being emptied) was conflicting with configuration in "Endpoint Settings" tab that is set as "Accounts will be deleted from both the provisioning directory and the managed endpoint"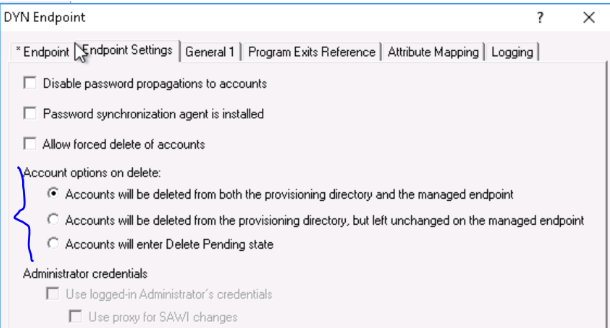 4. After that able to create the Endpoint.