Symantec VIP integration for Microsoft Credential Provider stuck at 'Contacting VIP for Challenge..."
Article ID: 239896
Updated On:
Issue/Introduction
The VIP plugin for Microsoft Credential Provider displays the message 'Symantec VIP Authentication: Contacting VIP for Challenge...'. Users are unable to log in even after entering the security code manually.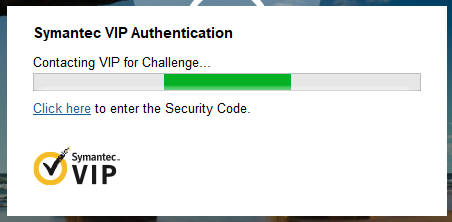 Resolution
Confirm that the RADIUS validation service on the destination Enterprise Gateway is turned on. When the service is on, incoming traffic is captured in the log file and can be seen on the LOGS tab. An example of the service turned OFF and unreachable:


Confirm that the destination VIP EG IP addresses in the registry settings on the protected server are valid and reachable (IP addresses and ports for both the primary and secondary servers). Access the registry remotely, or log into the server with a username that is able to bypass VIP MFA.
If the server can be accessed, check connectivity to the VIP EG RADIUS validation servers using the VSRadiusClient_test.exe tool.
(see also: VIP Quick Start Guide: Windows Server Authentication)