Implementing policy for wildcard domain on ProxySG
Article ID: 235798
Updated On:
Issue/Introduction
Implementing policy for wildcard domain on ProxySG
Resolution
In the ProxySG and ASG can use this CPL command for create the policy as same as wildcard domain below.

define condition Domain_Wildcard
url.domain=example.com
end
;;;;;;same define condition;;;;;;;

define url.domain condition Domain_Wildcard
abc.com
end
;;;;;;same define condition;;;;;;;

<proxy>
condition=Domain_Wildcard allow

Because in the proxySG is define each parameter in the URL below

Example,

https://community.broadcom.com/symantecenterprise/communities/community-home/index.php

" https:// " is a schema/protocol
" community " is a subdomain
" broadcom.com " is a domain
" /symantecenterprise/communities/community-home/ " is a directory path
" .php " is a extension file type

So, if you define the object url.domain and input the value " example.com " the proxySG will know the same as " *.example.com "
on the VPM object, use the request URL object and input only the domain in the simple match.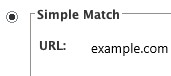 Using a simple match, in policy, is what is required. Tests have shown that using a wildcard (*.example.com) wouldn't really work. So, we recommend utilizing a simple match. Successful tests have been done with www.google.com and access was achieved to subdomains of google.com as well as the directories.