Cabi Health Report is not working.
Article ID: 235600
Updated On:
Products
DX Unified Infrastructure Management (Nimsoft / UIM)
Issue/Introduction
The Health report ( at glance or trend) from UIM OC reports return blank data.

Resolution
The issue is related to the recent browser updates.

Please configure Cabi with HTTPS to resolve the issue.


Please follow the below steps to configure wasp CABI with HTTPS:
1- From IM/AC Navigate to the Cabi robot.
2- Select Raw Configure if the wasp probe
3- With the setup section highlighted, create a new key, key name https_port key value 443 (by default) and apply then restart the wasp probe.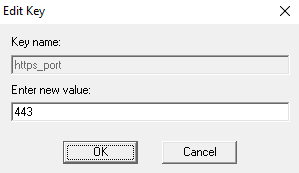 4- Select Raw Configure if the Cabi probe
5- With the setup section highlighted, edit the cabi_url key then add the HTTPS url of Cabi
https://<Cabi server IP address/FQDN>:<port>/cabijs.
https://192.168.1.10:443/cabijs/


6- restart wasp probe on Operator Console robot.
7- Login to the CABI server https://<CABI IP address or FQDN>:443/cabijs and make sure you can log in.
8- Test the reports.