As per maintenance_mode in UIM 20.10 or higher:
https://techdocs.broadcom.com/us/en/ca-enterprise-software/it-operations-management/ca-unified-infrastructure-management-probes/GA/alphabetical-probe-articles/maintenance-mode-maintenance-mode.html
The maintenance_mode probe generates the following tables in the UIM database:
maintenance_window
Stores information about current and past maintenance windows.
maintenance_schedule
Stores each schedule name, start time, duration, and recurrence details.
The probe uses the Cron scheduling mechanism.
maintenance_schedule_members
Stores the schedule IDs and csids (Computer System IDs) that are in that schedule.
maintenance_window_history
(Available from 20.10) The maintenance_window_history table is created during the installation or upgrade of the maintenance_mode probe. The data from the maintenance_window table is then stored in the maintenance_window_history table. Additionally, by default, the new data that is written in the maintenance_window is also added to the maintenance_window_history table.
There is no formal or OOTB maintenance report. You have to query the tables. You might be able to leverage some of the probe callbacks in a script.
Ctrl-P opens the probe utility and you can review available callbacks which can be run using the pu command.
See:
Examples of probe utility commands that can be used in programs
https://knowledge.broadcom.com/external/article/57382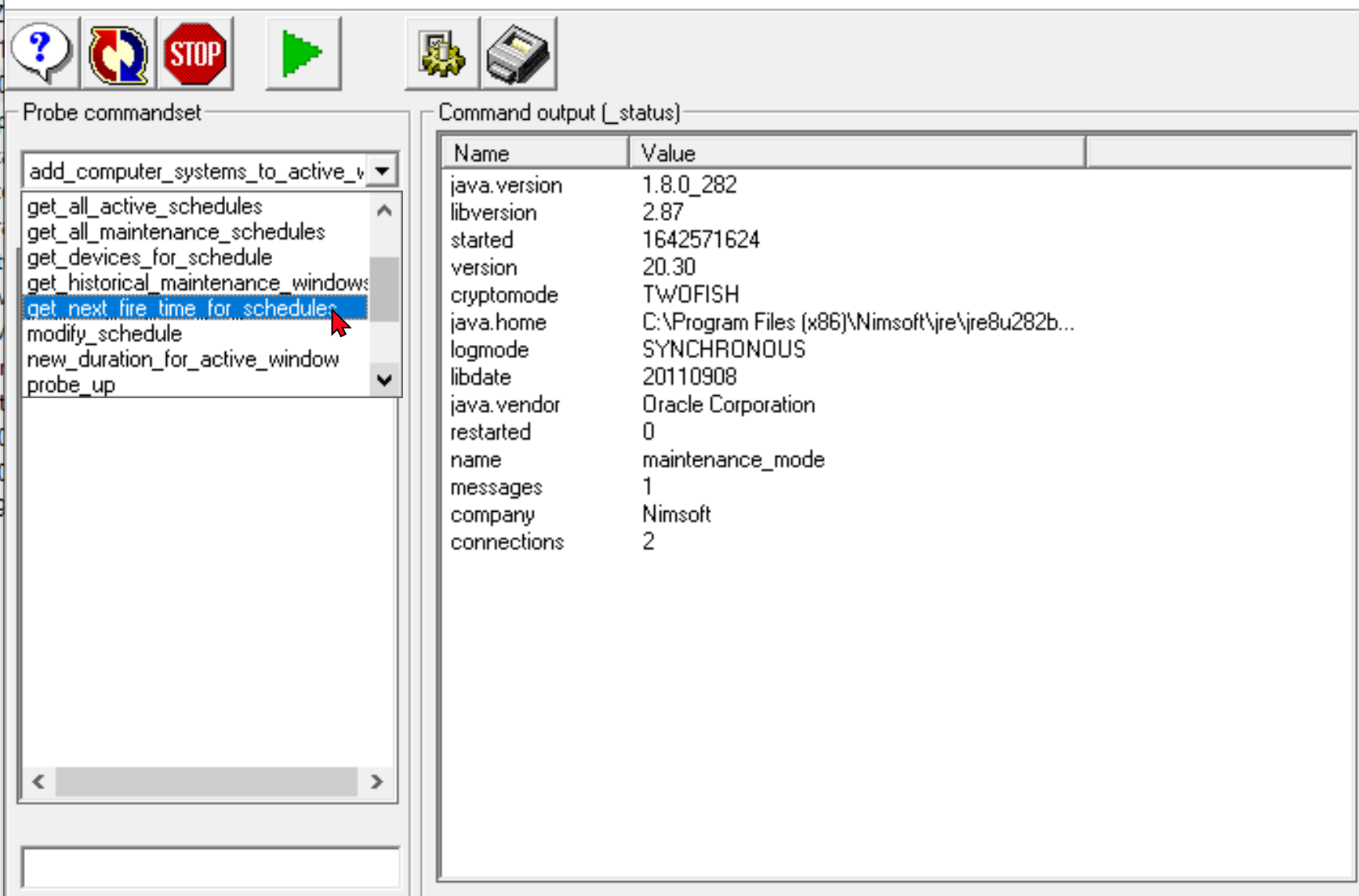 I suggest you post a message to the UIM Community and ask others what they might have done.
Here is another query:
--Fetch historical windows from the DB
select
ms.SCHEDULE_NAME,
mw.START_TIME,
mw.END_TIME,
d.dev_name,
d.dev_ip
from
MAINTENANCE_SCHEDULE ms,
MAINTENANCE_WINDOW mw,
CM_DEVICE d
where
mw.SCHEDULE_ID = ms.SCHEDULE_ID
and
d.dev_id = mw.DEV_ID
order by
ms.START_TIME,
ms.SCHEDULE_NAME