ALERT:
Some images may not load properly within the Knowledge Base Article. If you see a broken image, please right-click and select 'Open image in a new tab'. We apologize for this inconvenience.
Unable to discover Access Points on Cisco C9800-80-K9 chassis
Article ID: 226552
Updated On:
Issue/Introduction
We have added a new Wireless LAN Controller in Spectrum, but are unable to discover the Access points.
Device model: Cisco C9800-80-K9 chassis
Model Type Name: GnSNMPDev
System Object ID: 1.3.6.1.4.1.9.1.2669
Environment
Release : 21.2.x
Component : SPCCRT - Spectrum Certification
Resolution
Perform the Self-Certification in Spectrum.
1. In Spectrum OneClick Console, launch the Device Certification wizard. Click on Tools à Utilities à Device Certification
2. Locate the System Object ID: 1.3.6.1.4.1.9.1.2669 (you already have this entry as the device was discovered).

3. Select it, click on the Edit button and change the configuration as follow:
System Object ID: 1.3.6.1.4.1.9.1.2669
Device Type Name: Catalyst 9800-80-K9 WLC
Model Type Name: SwCiscoIOS
Model Class: Wireless LAN Controller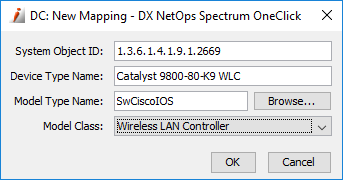 4. Save the changes.
5. Delete/destroy the existing Cisco C9800-80-K9 chassis device model.
6. Discover the device again.
7. Then run the Access Point Discovery.