ALERT:
Some images may not load properly within the Knowledge Base Article. If you see a broken image, please right-click and select 'Open image in a new tab'. We apologize for this inconvenience.
'TCAT-AS-000570 - Tomcat default ROOT web application must be removed.' (Vuln ID: V-222959)
Article ID: 224396
Updated On:
Issue/Introduction
Is it possible to remove the ROOT directory?
Tomcat/webapps has ROOT directory, webtomcat/webapps does not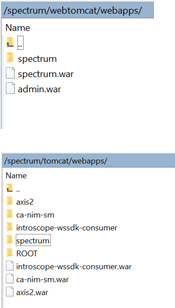 Resolution
The ROOT application does not need to be removed.
The DX Netops Spectrum deployment of ROOT only includes an icon file and an HTML file that redirects to the default Spectrum Webapp:
Thus this is not a finding for Spectrum.