This process requires the following items:
creation script (see below in the Additional Information section)
a Linux system (Ubuntu or CentOS is recommended)
Security Analytics ISO file
The script is named drive_script.sh. The text of the script is found below as well as a link to download the script. Copy and paste the text of the script to a file on your Linux appliance and name the file drive_script.sh. Apply the appropriate executable privileges to the script as well.
The script should work with either a 16GB or 32GB flash drive, but it is highly recommended to use a 32GB drive. The 64GB and larger flash drives do not work.
To create the installable flash drive, copy the drive_script.sh and the atpsa ISO file to the Linux box. Insert the flash drive into the USB port. Find the USB flash drive with fdisk -l | grep G. Look for a device the same size which you inserted. It may be 31.9GB or 14.9GB.
The directory of drive_script.sh may change as needed. The directory of the atpsa ISO file may change as needed.

Run the following command:
   bash drive_script.sh -d=sdX1 -i=/home/atpsa*iso 
Where 'X' is the drive letter of your USB flash device and the correct path of your atpsa ISO input file is specified. On Ubuntu, you may need to run using 'sudo'
This takes about 7-10 minutes and provides plenty of output to know that it is progressing. A successful key creation on Ubuntu shows the following: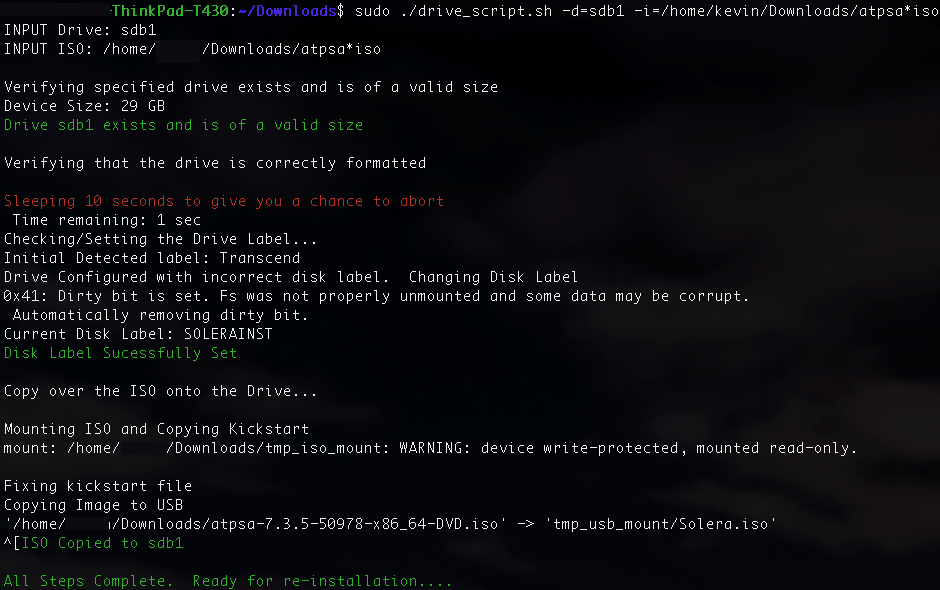 IMPORTANT: using the Recovery option will preserve your configuration and settings (including licensing and networking). However, all capture and index data will be lost.