SystemEDGE with VCAIM plugin is discovered on Spectrum under Spectrum VHM Tree but the VMware VCenter infrastructure is not discovered
Article ID: 20945
Updated On:
Issue/Introduction
After install a SystemEDGE and VCAIM plugin, the server is discovered and modeled into Spectrum as:
Model Type: Host_systemEDGE
Device Type: VMware Manager and vCenter Server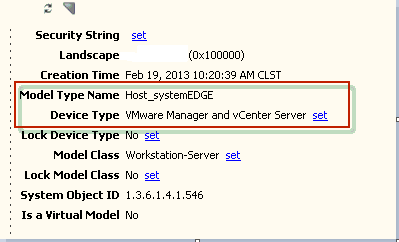 Anyway the VMWare VCenter infrastructure isn't discovered for this model under the Spectrum VHM tree:


Environment
Release: SPPREM05900-9.2-Spectrum-Infrastructure Manager-Premium Suite
Component:

Cause
This situation happens because the VCAIM hasn't been configured to connect to any VMWare VCenter Server.
If you check the configuration for this AIM under "Information Tab - SystemEDGE Application Insight Modules (AIMs) - VMWare vCenter - Configuration", you will note that the VCAIM doesn't have any VCenter host registered with it.


Note: No try to set from this GUI the VCAIM's configuration because you will receive the following error. The VCAIM should be configured on VCAIM's side.


Resolution
To resolved this situation do the following:
Configure the VCAIM plugin using the nodecfgutil command at SystemEDGE/VCAIM server and specify the parameters to connect to the VCenter server:


VCenter hostname user (domain\user format)
user's password
port (default 443)
protocol (default https)

Note: See the SystemEDGE User Guide manual for more details about VCAIM configuration.


Recycle the SystemEDGE agent and rediscover this server on Spectrum.


Now under Spectrum VHM Tree the VMWare VCenter infrastructure will be discovered for this VCAIM agent: