Enable cookies for the page using the following steps.
1. In the address bar, click on the blocked cookie icon. It will bring up the below options: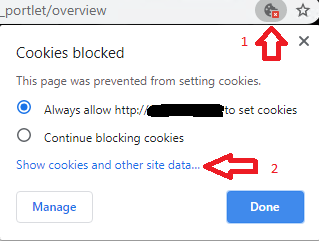 2. Click on the "Show cookies and other site data..." link. It brings up the below box:
3. Click on the "Blocked" tab.
4. Select the page being blocked.
5. Click Allow. You'll get a message that cookies from that site will be allowed.
6. Click Done. The following will appear at the top of the page:

7. Click the Reload button to reload the page and view the dashboard.