While adding the Package Service in the SMP Console, it will also show you what we are expecting to have setup (if you right-click on Package Service>View Prerequisites for Site Service):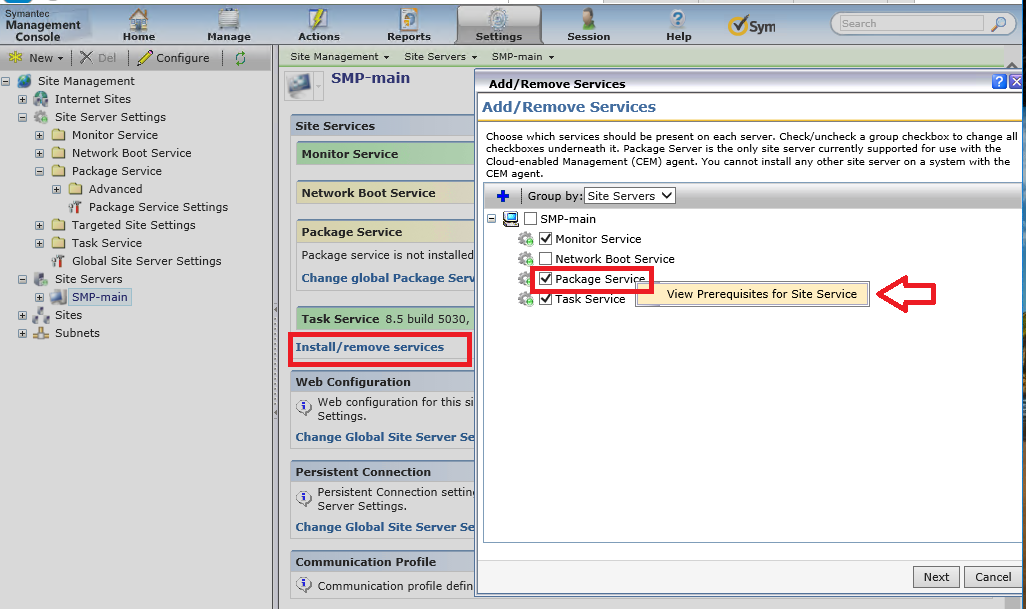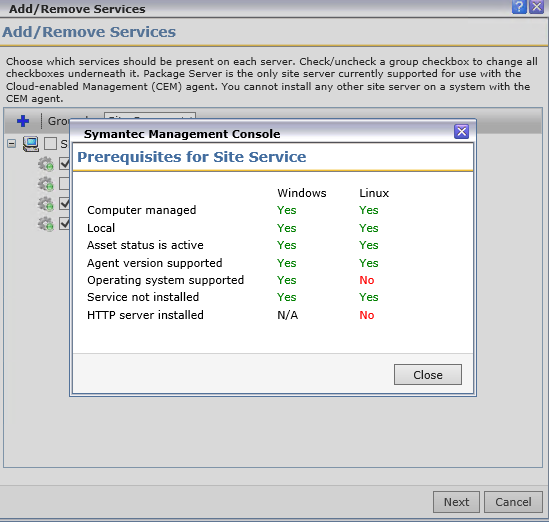 See also KB 179747 "How to install Package Service"


Package Server is unable to host its packages within IIS 7 unless the IIS 6.0 Compatibility Tools are installed as part of the Web Service role configuration.
There are a few other services that need to be enabled for Package server to fully function, they are outlined below.

1. Log in as the in-built Administrator account first
2. Go to Start > Administrative Tools > Server Manager
3. Select 'Web Server (IIS)' in the left hand tree
4. Inside the right hand pane click the link 'Add Role Services'
5. Select Application Development and make sure ASP is checked.
6. Select Security and ensure that Windows Authentication is checked.
7. Select Management tools > IIS 6 Management Compatibility (all sub folders checked)
8. Click the 'Install' button inside the popup dialog

Note: if you need to browse to the package directory, add the "Directory Browsing" option under Web Server>Common HTTP features.


Question:
Package Server needs to use the .NETClassic AppPool ?

Answer:
Pre-SMP 7.6:
There is no need to change the AppPool for the Package Server. The Package Server runs on class ASP and doesn't even need the .Net framework. Hence, it doesn't matter of which AppPool it is running on.
The Package Server do not use any .NET, so changing the .Net version and/or pipeline mode in Application Pool should not affect any PS functionality.
Symantec Management Agent do not use Application Pools in any way.
The Package Server start using the Application Pool for retrieving the correct IIS identity (IIS username), in order to use it for DCOM permission granting for IIS.
This functionality was added starting SMP 7.6.
The Package Server do not change/manage or handle the AppPools in any other ways.
The DCOM permissions are updated on each Package Server start (SMA restart), or when Package Server is disabled/enabled through the policy. So if the AppPool is changed on the Default WebSite, the correct user will be taken on PS start.
Update 13.01.2017
Here is the list of features installed by PS in IIS
=====
"IIS-ASP",
"IIS-ASPNET",
"IIS-DefaultDocument",
"IIS-DirectoryBrowsing",
"IIS-HttpCompressionStatic",
"IIS-HttpErrors",
"IIS-HttpLogging",
"IIS-ISAPIExtensions",
"IIS-ISAPIFilter",
"IIS-LegacySnapIn", /* IIS 6 Management Console */
"IIS-LegacyScripts", /* IIS 6 Scripting Tools */
"IIS-WMICompatibility",/* IIS 6 WMI Compatibility */
"IIS-Metabase", /* IIS Metabase and IIS 6 configuration compatibility */
"IIS-ManagementConsole",
"IIS-NetFxExtensibility",
"IIS-RequestFiltering",
"IIS-StaticContent",
"IIS-WindowsAuthentication".
=====