How to delete Quarantined items from the Symantec Endpoint Protection Manager.
Article ID: 151678
Updated On:
Issue/Introduction
There are items in the Quarantine folder. I would like to delete those items using the Symantec Endpoint Protection Manager.


Resolution
Log into the Endpoint Protection Manager.
Click on the Monitors tab on the left pane.
Click on the Logs tab at the top of the right pane.
Click on Risk in the Log type drop-down menu.
Select a time range from the Time range drop-down menu. (The default is Past 24 hours.)
Click Advanced Settings in the bottom left hand corner.
Next to Action Taken: choose Quarantined
Click on the View Log button. This gives you a list of the quarantined items.
In the Risk Logs window, click on the risk(s) you would like to remove.
Click on Delete from Quarantine in the Action drop-down menu.
Click on Start.
Highlight the item and confirm deletion.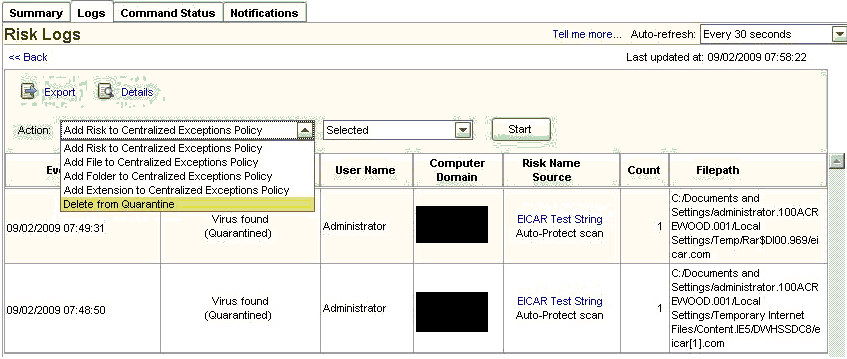 This will delete the selected risks from the quarantine folder.