How can I submit Feedback or Feature Request for Rally also Enhancement Request
Article ID: 145023
Updated On:
Products
CA Agile Central SaaS (Rally)
Issue/Introduction
What is the best way submit feedback or file a feature request for Rally.
Environment
Release : SAAS
Component : AGILE CENTRAL
Resolution
There are two ways you can submit Feedback or request a new Feature or Enhancement through Rally.
1. Many pages have a Submit Feedback button with the icon of megaphone in the upper right corner of the page.

2. You can also submit Feedback by clicking the "?" in the upper right which will open a menu. Select Submit Feedback from the list.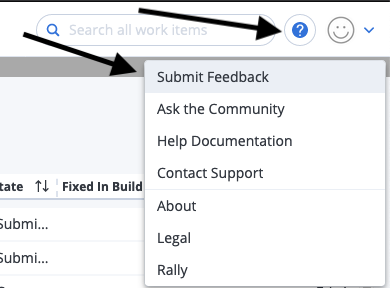 These will open a new window where you can submit your feedback or feature request