Rally - Browser certificate is not trusted
Article ID: 129864
Updated On:
Products
CA Agile Central On Premise (Rally)
CA Agile Central SaaS (Rally)
Issue/Introduction
When accessing the Rally website, you may be presented with an error stating that your connection is not private or your connection is not secure.

Chrome may show a message such as:
Your connection is not private
Attackers might be trying to steal your information from rally1.rallydev.com (for example, passwords, messages, or credit cards). Learn more
NET::ERR_CERT_AUTHORITY_INVALID

Firefox may show a message such as:
Your connection is not secure

The owner of rally1.rallydev.com has configured their website improperly. To protect your information from being stolen, Firefox has not connected to this website.
Environment
Release:
Component: ACSAAS

Cause
This issue is typically caused by a self-signed certificate that is being deployed to end users.
The Rally certificate should appear as follows when examined: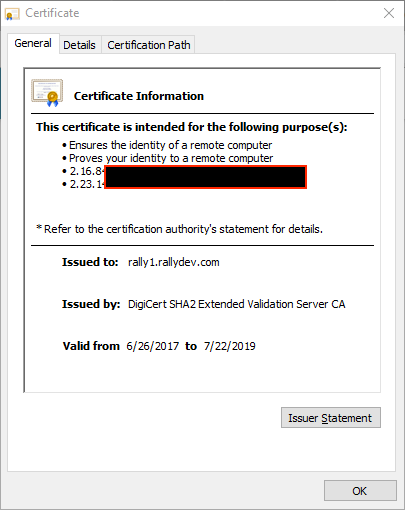 Resolution
If the certificate appears differently, it will be necessary to contact your IT department to ensure that the certificate is legitimate and if so, have the certificate installed into the trusted store on your computer.