Bundl collector abend on DUPLICATE RTF CONTROL ENTRY error
Article ID: 111819
Updated On:
Issue/Introduction
Bundl collector shuts down with the following "DUPLICATE RTF CONTROL ENTRY..." error: 

BND7065I (BNDLCOL1) is collecting "report" JOB30482 08/14/18 22:38:09 via DSF xx 
DUPLICATE RTF CONTROL ENTRY ACCOUNT , REPORTID = reporta 
BND7058I 0 pages written to page files 
BND7059I 0 bytes of input collected 
BND7060I 0 bytes of input compressed 
BND7061I 0 percent of input compressed 
BND7062I After compression, average page size is 0 bytes 
BND7008I Job ended - return code 0030 
BNDL405 - TASK ABENDED. SHUTDOWN IN PROGRESS. 
BND7001I CA-Bundl version: 5.0.00, level: 5.0.00 
BND7176I (BNDLCOL1) synchronizing 
BND7177I (BNDLCOL1) synchronized 
BNDL404 - DATA COLLECTION PROCESS COMPLETED 
XACT01I BNDLCOL1 1 STCBUNDL STCBUNDL -------- R0008 
IEF170I 1 BNDLCOL1 XACT01I BNDLCOL1 1 STCBUNDL STCBUNDL ------ 
IEF404I BNDLCOL1 - ENDED - TIME=00.24.32
Cause
It was determined that the cause of the error was due to client having multiple RTF records with "same name" control items.
In the following example, the same name control item "ACCOUNT" had been defined in two different RTF records ( Seq No 1 and 2):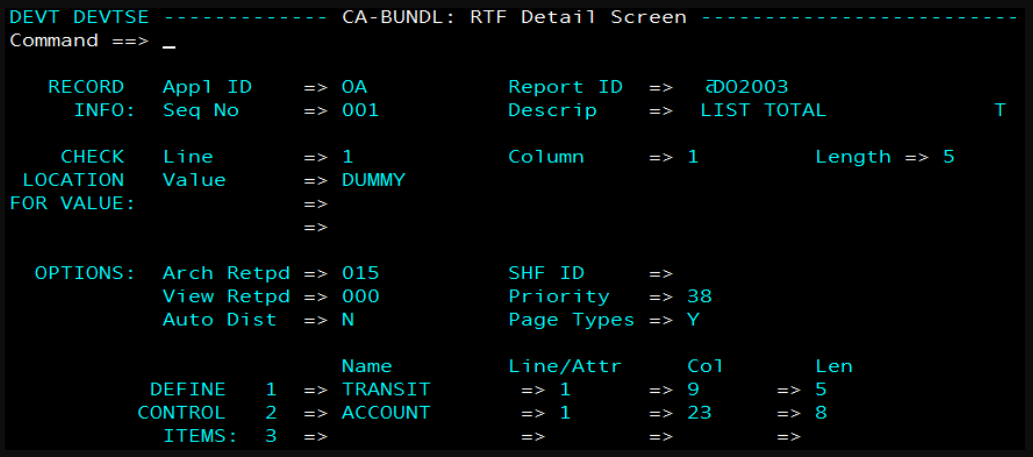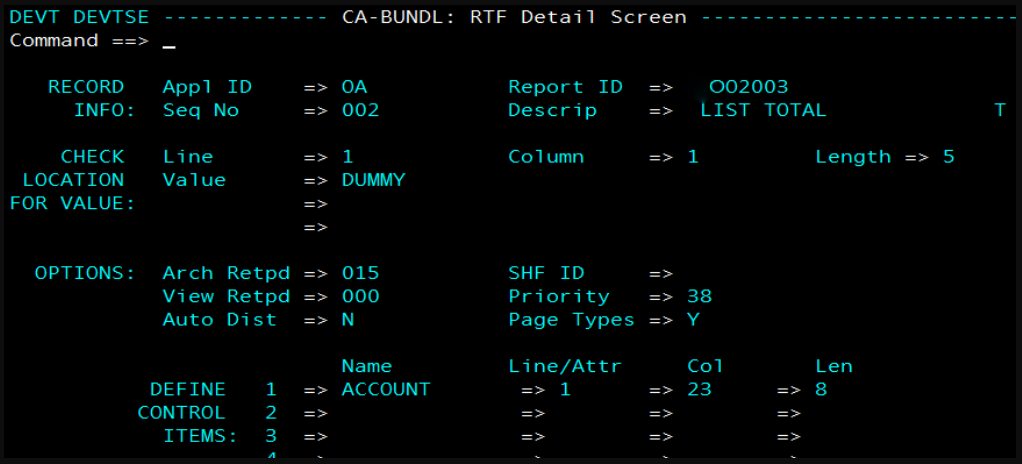 Resolution
The suggested resolution was to modify the appropriate RTF records and define UNIQUE control item names.