Additional Details:
Should "c_mdrproduct" be changed in the command to what we use? ---> YES
Should "c_mdrprodinstance" be changed? --> YES
And "ConnectorID" must be changed too? --> YES
Example:
-- First you need to locate your ConnectorID from ConnectorConfiguration table:
select * from ConnectorConfiguration 
Below the result from my lab.
Here let's say I'm deleting "ConnectorID = 5"

-- So in the above query you should determine and take note of the connectorI you need to delete. For example "connectorid = 5"
--Then locate your " c_mdrprodinstance" from the ca_ssa_ci_detail table run the query below:
select  distinct c_mdrprodinstance,c_mdrproduct from ca_ssa_ci_detail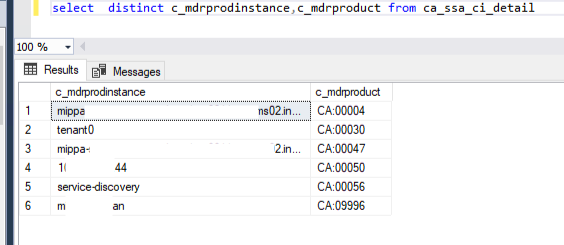 --from the above output Take note of the "c_mdrprodinstance" you need to delete
--So - in the query below use the CONNECTOR ID you need to delete, in red: (in the example below is connectorID 5)
if exists(select 1 from CIStaging s where s.ciid is not null AND s.ConnectorID = 5) begin 
update ci set USMNotebookID = null, USMSheetID = null where ciid in (select ciid from CIStaging where ConnectorID =

 5

) 


end 
Ont the query below you have to replace the red part, with your previously noted "c_mdrproduct and" "c_mdrprodinstance"
delete from ca_ssa_ci_detail where c_mdrproduct = 'CA:00050' and c_mdrprodinstance = 

'10xxxxxx.44' 
-- Do the same for the rest of the queries where it is required to replace a value:
delete from AlertHistory where AlertID in (select a.AlertID from AlertHistory a, Alerts b where a.AlertID = b.AlertID and b.ConnectorID not in (select cc.ConnectorID from ConnectorConfiguration cc) and b.ConnectorID != '0') 





delete from AlertImpact where AlertID in (select a.AlertID from AlertImpact a, Alerts b where a.AlertID = b.AlertID and b.ConnectorID not in (select cc.ConnectorID from ConnectorConfiguration cc) and b.ConnectorID != '0') 



delete from Alerts where 

ConnectorID = 5 





delete from AlertQueueAssignments where AlertID not in (select a.AlertID from Alerts a) 





delete from OutageAlerts where AlertID not in (select a.AlertID from Alerts a) 





delete from OutageQualityAlerts where AlertID not in (select a.AlertID from Alerts a) 





delete from OutageRiskAlerts where AlertID not in (select a.AlertID from Alerts a) 



delete from ConnectorConfiguration where ConnectorID = 5